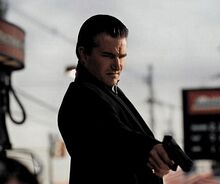 Walden Belfiore played by Frank John Hughes is a soldier in the Altieri Crew.
Biography
Edit
Walden played a small but pivotal role during the show's final episodes. He is presumably related to Angie Bonpensiero, whose maiden name is Belfiore, revealed in episode "Commendatori" when Janice Soprano says to Carmela "Angie Belfiore who married Sal Bonpensiero?". He was first seen accompanying Carlo Gervasi to a meeting at the Bada Bing and also visited Tony Soprano following the death of Christopher Moltisanti. Walden was also a bodyguard at the safe-house when Tony goes into hiding after the death of Bobby Bacala and the incapacitation of Silvio Dante. In the final episode, Benny Fazio and Walden locate Phil Leotardo and Walden shoots Phil in the head and chest before making a getaway with Benny.
Murders committed by Walden Belfiore
Edit
Appearances
Edit
Ad blocker interference detected!
Wikia is a free-to-use site that makes money from advertising. We have a modified experience for viewers using ad blockers

Wikia is not accessible if you've made further modifications. Remove the custom ad blocker rule(s) and the page will load as expected.