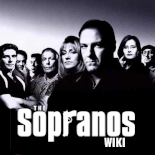 The Sopranos Wiki is a Wiki which strives to be the premier source of information on all aspects of the television drama The Sopranos. The Wiki was started on January 17, 2007 by Bjbouchoux, but was later abandoned by its founder. Just over a year later, on June 29, 2008, the wiki was adopted by Greyman and a site redesign and revamp took place soon afterwards.
Ad blocker interference detected!
Wikia is a free-to-use site that makes money from advertising. We have a modified experience for viewers using ad blockers

Wikia is not accessible if you've made further modifications. Remove the custom ad blocker rule(s) and the page will load as expected.