Hello, new member her, would like to thank everyone for creating such an atmospheric presentation on this wiki. Is there anything else to know about images, adding new content, etc.?Gunman6 (talk) 06:18, October 31, 2012 (UTC)
Actually, I'm the admin currently attempting to make more of this place; If I get a chance that is. I do have other wikia projects to work on as well, but whenever I get a chance, I add a tidbit or two here and there. Good luck editing and the more members contribute, the better it will be. Also, thanks for noting on the overall main page's outlook. I know the character roster plays a huge contributing factor to the overall impression of the series. - PrinceZarbon talk contrib 19:14, December 22, 2012 (UTC)
Moved from Main Page
Edit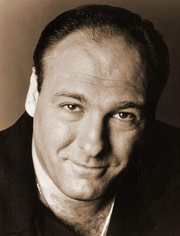 From everyone on the wikia, our deepest sympathies go to this legendary character actor and he will be greatly missed by friends, family, and fans alike.
James Gandolfini, whose portrayal of the morally complex mob boss in HBO's "The Sopranos" aided in creating one of TV's greatest drama series, died Wednesday in Rome, Italy. He was 51.
HBO has explained that Gandolfini is a "special man, a great talent, but more importantly a gentle and loving person who treated everyone, no matter their title or position, with equal respect." There is also a great deal of sympathy expressed for his wife and children.
Gandolfini has won three Emmys for his portrayal of the conflicted New Jersey mobster, a heavily groundbreaking role in television history. "The Sopranos" aired from 1999 to 2007, delivering the greatest television drama series to our devoted fanbase.
David Chase, creator of this critically-acclaimed series, remembered Gandolfini as a "genius."
- this was the note from the main page; now moved here to the talk page. - PrinceZarbon talk contrib 20:15, March 18, 2014 (UTC)
Ad blocker interference detected!
Wikia is a free-to-use site that makes money from advertising. We have a modified experience for viewers using ad blockers

Wikia is not accessible if you've made further modifications. Remove the custom ad blocker rule(s) and the page will load as expected.