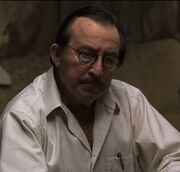 "
Sunshine
" portrayed by Paul Mazursky, was an associate of
Junior Soprano
who appeared as a card dealer in two episodes.
Biography
Edit
He is first seen in "The Happy Wanderer" dealing for Tony Soprano's executive card game, and subsequently in "Amour Fou" dealing for Eugene Pontecorvo's poker game when it was robbed by Jackie Aprille Jr. and his crew in their effort to prove themselves to the family. During the robbery, Sunshine is reluctant to give up his watch and is ordered to do so by Christopher Moltisanti. He subsequently continues to quote "old adages" after being told to "Shut up and stop fucking looking at me" by one of the robbers, and is shot in a moment of panic. This act leads to Carlo Renzi and eventually Dino Zerilli and Jackie Aprile, Jr's murder.
Appearances
Edit
Ad blocker interference detected!
Wikia is a free-to-use site that makes money from advertising. We have a modified experience for viewers using ad blockers

Wikia is not accessible if you've made further modifications. Remove the custom ad blocker rule(s) and the page will load as expected.