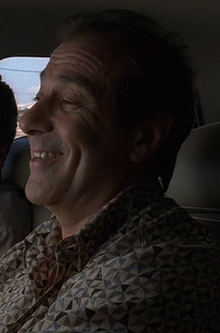 Phillip "Philly Spoons" Parisi potrayed by Dan Grimaldi is a soldier and later acting caporegime of Junior's Crew
Biography
Edit
Philly is Patsy Parisi's identical twin brother, who was born eleven minutes after him in Bloomfield, New Jersey. He is also Tony Soprano's cousin on his mother's side. He does not like the city of Boston, Massachusetts calling it "Scranton with Clams". Philly alludes that he has been a fugitive in the past by telling Gigi Cestone about saving money where he can when wanted by the police, but it is never mentioned what he was a fugitive from. The two brothers were extremely close and Phillip would follow his brother into a life of organized crime in the DiMeo crime family. He is also the uncle to Patrick Parisi and coy with revealing mob information. He is executed by Gigi Cestone in early March 2000, when Philly picked-up and drove Gigi home from the Newark Liberty International Airport in his Mercury Grand Marquis. Tony Soprano ordered the hit to silence rumors (which in reality was factual gossip of Tony's troubled personal life at the time) that "Spoons" had been spreading, stating that Tony had tried to suffocate Livia Soprano and that "Spoons" was going to run the family after Junior's bust.
After Death
Edit
Philly also later appeared in one of Tony's dreams in Funhouse while he was suffering from food poisoning. Tony was shown to be sorry and regretted having him killed. His death is thought to be an attempted carjacking as reported by police in the news.
Appearances
Edit
Ad blocker interference detected!
Wikia is a free-to-use site that makes money from advertising. We have a modified experience for viewers using ad blockers

Wikia is not accessible if you've made further modifications. Remove the custom ad blocker rule(s) and the page will load as expected.