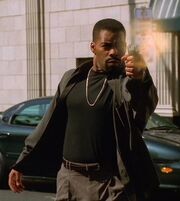 William Johnson "Petite" Clayborn
, played by John Eddins, was contracted by Junior's crew to kill Tony Soprano via intermediary Donnie Paduana. First attempt was aborted when Christopher inadvertently boxed in the car the would-be assassins were using. Clayborn attempted to get Christopher to move pretending to be a police officer, but to no avail. The second attempt also failed and Clayborn was accidentally shot and killed by his partner Rasheen Ray.
Appearances
Edit
Ad blocker interference detected!
Wikia is a free-to-use site that makes money from advertising. We have a modified experience for viewers using ad blockers

Wikia is not accessible if you've made further modifications. Remove the custom ad blocker rule(s) and the page will load as expected.