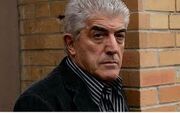 Frank Vincent (August 4, 1939 - September 13, 2017) was an American actor who played Phil Leotardo. Vincent has also been in Casino as Frank Cullotta and in Goodfellas as Billy Batts, the victim of Tommy (Joe Pesci) whose death leads to Tommy's own execution.
External links
Edit
Ad blocker interference detected!
Wikia is a free-to-use site that makes money from advertising. We have a modified experience for viewers using ad blockers

Wikia is not accessible if you've made further modifications. Remove the custom ad blocker rule(s) and the page will load as expected.