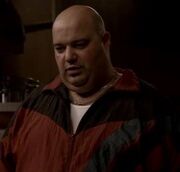 Dante "Buddha" Greco is a soldier in the
Aprile crew
, first seen taking a delivery of cigarettes from
Christopher Moltisanti
on his return from North Carolina. Dante is often seen in the back at Satriale's Meat Market. Dante visited
Benny Fazio
in the hospital after his beating by
Phil Leotardo
. He brought Tony a glass of water and helped take his shoes off when he collapses while being screened at
Allegra Sacrimoni
's wedding. Later at the wedding Dante brings drinks for the Soprano family and even dances with
Rosalie Aprile
. 
Dante accompanied Benny Fazio and Terry Doria to look for Vito at his goomah's beach house following the revelation that Vito was possibly homosexual. Dante's mother suffered from, and eventually died of lupus, which caused Dante to consider a career in healthcare. He was seen playing pool in the back room of the Bada Bing when Anthony Infante informed Tony that Johnny Sack had died in a prison hospital of lung cancer. As of the final season, Dante has been acting as Tony's personal driver and bodyguard. He was last seen driving Tony and guarding the safe-house door in the final episode, "Made In America". 
Dante "Buddha" Greco shares the same nickname as real-life Lucchese crime family mob associate Joe Manri who was involved in the 1978 Lufthansa heist. 
Ad blocker interference detected!
Wikia is a free-to-use site that makes money from advertising. We have a modified experience for viewers using ad blockers

Wikia is not accessible if you've made further modifications. Remove the custom ad blocker rule(s) and the page will load as expected.