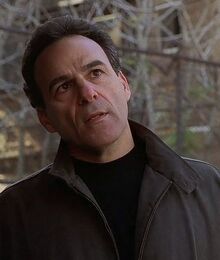 Charles "Chucky" Signore portrayed by Sal Ruffino is a soldier in Junior's Crew.
Biography
Edit
Chucky Signore is a soldier in Junior's Crew and a close friend and comrade of Mikey Palmice. Once it was confirmed that Junior and Mikey Palmice organized the failed hit on Tony Soprano, the sentiment was that Junior would want to finish what he started. Like Soprano, he is an avid yachtsman and boater who owns a runabout which he keeps moored at a Liberty Landing Marina located in Jersey City, New Jersey on the Hudson River. At this point, Tony decided to retaliate. Being that Mikey was now "too high up," the thought was that Chucky would be the most likely person to pull the trigger the next time around. As such, he was taken by surprise at a marina, while in his small boat, and killed by Tony when he reveals a hidden gun in a fish he was carrying and shoots Chucky several times in the chest. Tony and Silvio Dante take Signore's corpse out on his runabout and dispose of it.
Appearances
Edit
Ad blocker interference detected!
Wikia is a free-to-use site that makes money from advertising. We have a modified experience for viewers using ad blockers

Wikia is not accessible if you've made further modifications. Remove the custom ad blocker rule(s) and the page will load as expected.