Bada-Bing
Edit
The Bada Bing is a topless dancer night club located in Lodi, New Jersey. It is owned by Silvio Dante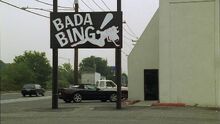 Overview
Edit
The Bada Bing is often frequented by the Soprano Crew, where they conduct business such as meetings and discussions and offers for promotion or play pool, mostly in the office.
The Bada Bing is often refereed to as the "Bing" It was also called a "Titty Bar" by Mikey Palmice.
Key Events
Edit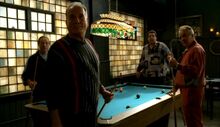 Ad blocker interference detected!
Wikia is a free-to-use site that makes money from advertising. We have a modified experience for viewers using ad blockers

Wikia is not accessible if you've made further modifications. Remove the custom ad blocker rule(s) and the page will load as expected.